2021 Ram 2500 In Gimli, Manitoba
2021 Ram 2500 In Gimli, Manitoba
The 2021 Ram 2500 is a capable truck that is efficient, comfortable, and reliable. It offers multiple engine options to ensure you have a vehicle that can tow whatever you want. There is a 75th-anniversary edition that includes an exquisite signature look. It is one of the best vehicles in its class, and it includes new technological innovations to make driving and towing a lot easier. There are multiple trim options to make it truly yours, and you have premium styling and seating to enjoy. It is the perfect truck to get serious work done in Manitoba. It is also a very efficient vehicle for its immense size and performance. The crew cab has seating to bring along a few extra workers as well. You can get it at Chudds Chrysler in Gimli, Manitoba. We have a massive Ram inventory for you to explore, choose from.
Ram 2500 Design
The design of this vehicle does not lack at all. There is seating for five people, and everyone will enjoy a comfortable experience. The materials inside are of premium quality, and you have the option to get a sweet-sounding audio system. It means that everyone will have a pleasant experience on the road. The Ram 2500 also includes modern navigation systems that excel at off-the-road driving. For example, the Off-Road upgrades ensure that your vehicle doesn't roll or pitch too steeply, making sure your vehicle is always moving the right way when driving off the road. The truck also includes a powerful mirror that makes towing easier. Furthermore, the truck bed has multiple cargo box options to ensure that you can carry everything your job requires.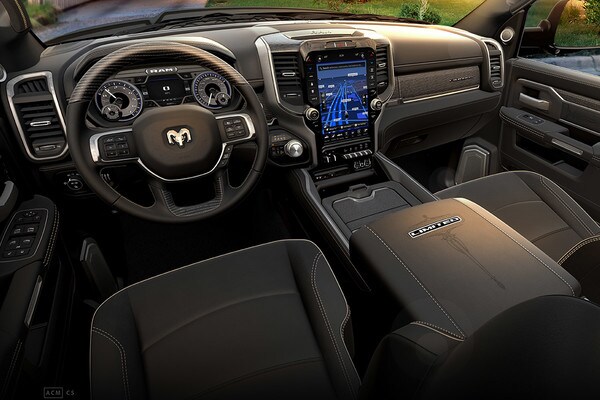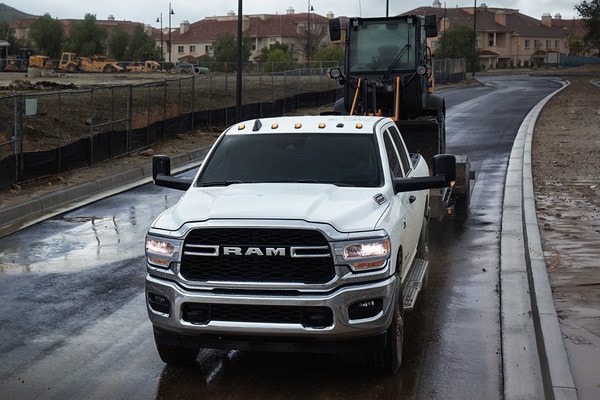 Ram 2500 Specs
The 6.4-litre V8 engine has enough power to tow up to 17,540 lbs. It can haul up to 4010 lbs, and you still get a great driving experience while doing it. The engine offers 410 horsepower and an eight-speed automatic transmission. You also have the option of opting for an inline-six, 6.7-litre turbo diesel engine. This diesel engine gets you up to 370 horsepower, and it includes Ram active air technology to cool it better. Additionally, you have the option of going for 17 or 18-inch wheels that can be fitted with multiple trailer features to make towing better. Certain trim levels also get a 360° around view camera with trailer reverse guidance. Contact us to learn more about the variety of new and featured vehicles specials at Chudds Chrysler.
Ram 2500 Performance & Safety
Due to its size, this vehicle excels at safety. It also has features to make using a trailer easier. For example, it has a trailer light check system to help you ensure that everything is working as it should. There are no blindspots with cameras to monitor your cargo area. One of the best features of this vehicle is its electronic stability control that enables you to drive more smoothly when carrying a trailer. This is the ultimate safety feature, as it allows you to carry heavy loads without having to worry about losing control. And to keep up the high standards, it includes modern safety features to meet your expectations. For example, it has Park Assist and Collision Avoidance. You also get an improved tire pressure monitoring system.
Trims of Ram 2500
There is a selection of six different trims. The basic Tradesman includes 17-inch wheels and a 5-inch display. It offers the power and towing you need for simple workloads. However, you can upgrade to the Big Horn, Power Wagon, Laramie, Limited Longhorn, or Limited trim levels. The main difference between these trucks is the types of wheels, interior, and interior comforts you can choose. For example, some of these vehicles include heated front seats and other amenities to make driving in the wintertime easier and cozier. Either way, you will have an exciting truck that delivers on power and features. Visit our finance centre to get your preferred Ram truck and upgrades with our quickly approved and comfortable financing plans.
2021 Ram 2500 Inventory in Gimli, Manitoba