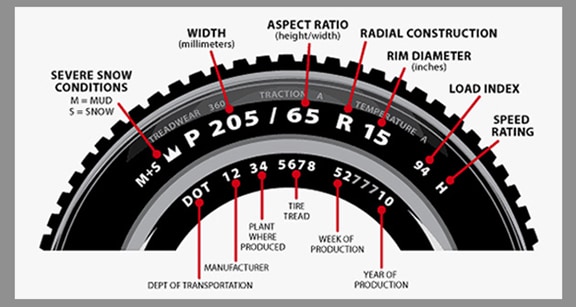 For example we'll use tire size P205/65 R15 to explain tire sidewall information.
1. TIRE SIZE
On Tyre Size the initial 'P' stands for passenger car tires, 'T' stands for temporary spare tires, 'LT' stands for light truck tires. Let's know more about the structure of tire size mentioned on the sidewall.
A. TIRE WIDTH
In our example tire size P205/65 R15, the 3 digit numeric value 205 is the section width of tire which is measured in millimeters.
B. ASPECT RATIO/PROFILE
In our example tire size P205/65 R15, the 2 digit numeric value 65 is the aspect ratio of tire which is percentage of section width used as sidewall section height.
C. CONSTRUCTION
The letter R signifies the Radial construction which is most popular tire type mostly found.
D. RIM DIAMETER
In our example tire size the last 2 digit numeric value 15 is the rim diameter mostly shown in inches. For heavy trucks you find the rim diameter shown in half inches which is radius of the tire.
2. TIRE BRAND
You'll find the tire brand mentioned on the sidewall of tire.
3. LOAD INDEX
Mostly you'll find the load index mentioned with speed rating. For example you'll see 94V in which 94 is the load index and V is the speed index for the tire.
4. SPEED INDEX
The speed index is shown in letters such as Y, W, Z or others with speed limit details provided by the manufacturers for each speed rating letter.
5. MOUNTING DIRECTION
In directional tires you'll find the mounting direction recommended by the tire manufacturers. Proper mounting of tires is very important to avoid explosion. Your car tires should by mounted by specially trained tire technicians only.