2021 Dodge Challenger in Gimli, Manitoba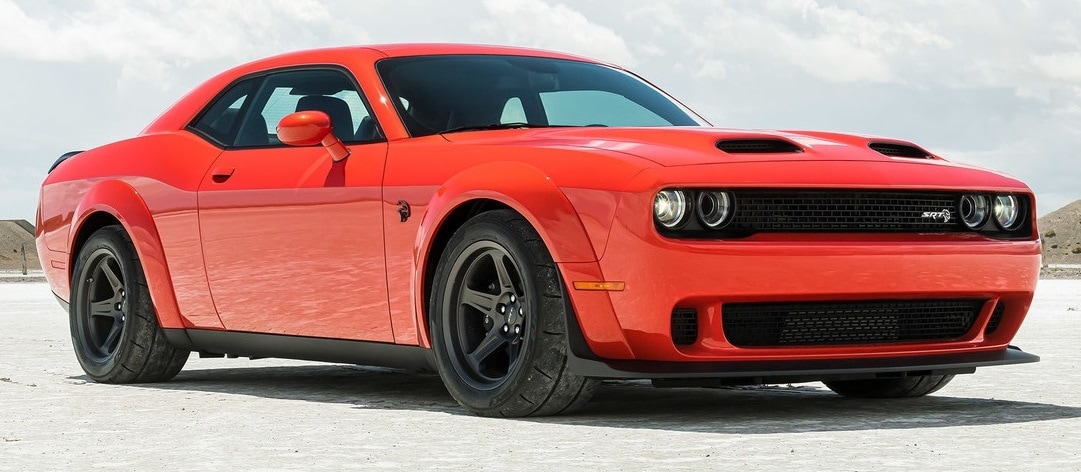 2021 Dodge Challenger in Gimli, Manitoba
If you're looking for a vehicle with speed, we invite you to check out the latest arrivals at Chudd's Chrysler Dodge. You will find the 2021 Challenger, one of the fastest and most iconic muscle cars on the road, in our inventory. The 2021 Challenger in Gimli, Manitoba, stands out for its sporty appearance that artfully combines elements of its original style dating back to the 1970s with some contemporary flair. The Dodge Challenger has plenty of power with solid engines under its hood. The Challenger is known for its tech-savvy sports car feel and user-friendly infotainment system, and plenty of onboard technology. You can take four passengers along for the ride in the Challenger, which holds up to five people. You can stay connected with the press of a button using the Challenger's smartphone connectivity features and app support.
Want to Talk Auto Finance?
The Technology of the 2021 Dodge Challenger
The Challenger comes equipped with the latest technology from Dodge called Uconnect, and it has a six-speaker standard sound system that plays your favourite tunes loud and clear. In 2021, the Dodge Challenger also flaunts a "Best-in-Class" touchscreen display with many user-friendly features. The Challenger has a customizable driver's information display screen with real-time performance updates and other vital information on the car. Status is available for the drivetrain as well if you order your Challenger with an all-wheel drive. Bluetooth, Android Auto, Wi-Fi, Apple CarPlay, and satellite radio also come included.
2021 Challenger Interior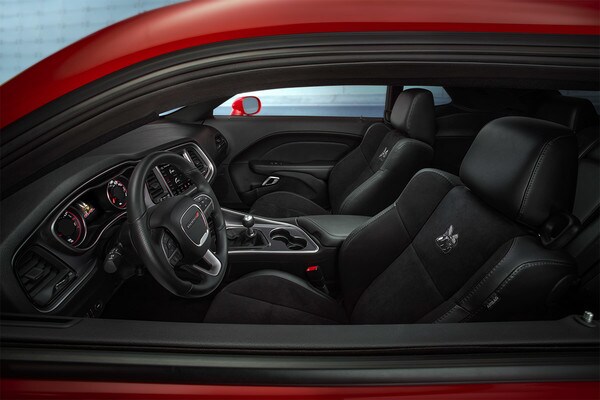 The Dodge Challenger has an interior design that's all you to choose from six different seat colours. There are 12 fabric designs available to customize your car, too. The Challenger also has unique upholstery called performance cloth, enhancing its comfort level while adding to its sporty design. Ultra-soft Nappa leather gives the cabin of the Challenger an upscale appearance and a plush feel, and heated and ventilated seats are available with the 2021 Challenger. A comfortable leather steering wheel is another feature for the Dodge Challenger, ensuring the driver's comfort with a 10-way adjustable front seat.
2021 Challenger Exterior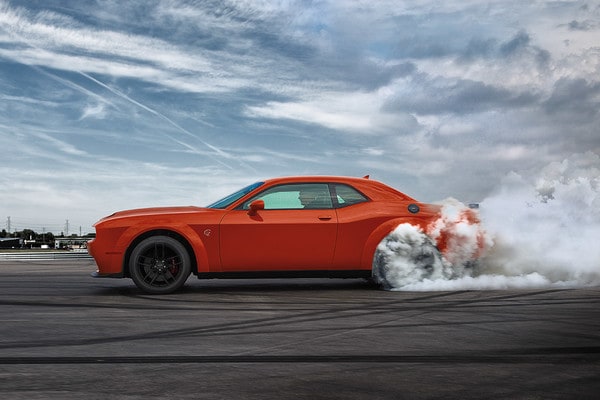 The options for style and design are nearly infinite with the 2021 Challenger, which has an excellent choice of 13 colour schemes to create a picture-perfect exterior. The Dodge Challenger has a selection of six different wheel design styles and finishes. An elongated hood adds to the Challenger's classic muscle car appearance. It also has a short tail end with LED lighting. A hood exhaust system and split grille are other head-turning features on the Dodge's front end. Its front also comes distinguished with halo LED headlights that provide the Challenger exceptional visibility while paying homage to its original look from the 1970s. A variety of appearance packages are available to provide the Dodge Challenger with your preferred custom look. You can choose from a wide-body package and a Special Appearance package for the Hellcat and the SRT Hellcat Redeye, complete with larger wheels and exceptional performance front brakes. A Blacktop Package with blacked-out exterior accents is also available for the Dodge Challenger in 2021. The unique colour scheme continues with a matching black cabin.
Dodge Challenger Performance & Safety
The Dodge Challenger comes powered by a V8 engine with a 6.2-litre displacement. It has one of the fastest acceleration capabilities in its class, and it has a revised powertrain this year for superior handling. The Dodge gets LED lighting, brake assist, electronic stability control, and traction control for safety.
Contact Us
To get more details on the 2021 Dodge Challenger or to see our Dodge inventory, don't hesitate to contact Chudd's Chrysler Dodge today. We can provide all the details and information you will want to know about the 2021 Challenger, including its safety, design, and performance. You can schedule a test drive for the Dodge through our dealership, and you can also find out more details about payments through our customer-focused Finance Centre.
Make an Inquiry