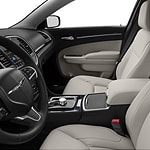 The Chrysler 300 remains a favorite among sedan owners who prefer a full-size vehicle. The interior is made with quality materials and a choice of luxury levels. Choose the features that fulfill your desires.
Chrysler provides new 300 owners with a choice of 16 different interior color themes. The steering wheel, seating, and door panels match with single or two-tone options. Upper trim levels include real wood accents on the dashboard and center console.
The leather-wrapped steering wheel is standard. Choose interior upholstery for the seats and door panels in fabric, synthetic or authentic leather. The seats and steering wheel may also be heated. Add a cooling ventilation feature to ensure comfort during the sweltering summer heat. See all of the interior options that the Chrysler 300 offers when visiting our Gimli, MB Chudd's Chrysler Ltd. facility. Select a model that appeals to you and schedule a test drive.