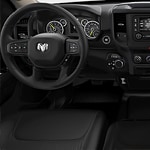 If it's style and strength you seek, you've come to the right place. The Ram 1500 not only looks great but it has amazing strength that is sure to raise eyebrows.
Pickups are known for towing abilities, but not to this degree. The new Ram 1500 boasts of being made up of over 97% high strength steel to pull up to 12,750 pounds and can carry up 2,300 pounds in its flatbed. Speaking of which, the flatbed has flexible features that allow it to pull down and swing out in the direction you need it to in order to safely and efficiently load the bed in the least amount of time possible.
With all of its capabilities, it is no wonder that many find the Ram 1500 the perfect pickup for work needs. What's more is that the pickup can also be used for daily activities and occasional needs, such as transporting large quantities of supplies or objects and moving furniture. No matter what you need it for, the Ram 1500 was built to serve you.