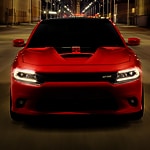 Everyone knows that the Dodge Charger is a high-quality automobile. It would hard to find a more capable sedan than this. The 2020 Dodge Charger has gotten bolder and better thanks to its wide array of advanced features. Consumers will be blessed with an engine that's primed with power, but there's more.
To start things off on a high note, the interior of the 2020 Dodge Charger is otherworldly to some degree. The finest of fabrics can be found in this contemporary cabin as well as a host of tech advancements. Dodge fully utilizes premium leather for its seats. When it comes to seating, up to five persons can fit comfortably. Heated and ventilated functionality is available as well as a performance shifter. Paddle shifters are available for other trim levels. There's also a multipurpose touchscreen display.
Take a quick test drive in the 2020 Dodge Charger by speaking with one of our representatives.