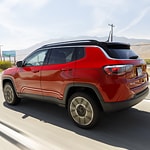 For a vehicle that offers exceptional comfort and convenience for daily travel and long road trips alike, you won't go wrong with the Jeep Compass. You'll find the interior of this popular compact SUV line equipped with all of the amenities you want, and you can have a closer look at the various Compass versions when you visit our showroom here in Gimli, MB.
The passenger seating is covered with sumptuous upholstery that resists stains and damage and looks great while doing so. Fabric and leather-trimmed styles are available, and different decorative accents are optional based upon the Compass model that you select.
If you find yourself in need of additional cargo space, the rear seat is split for easy folding and stowing. An available power hatch also makes for hassle-free loading and unloading of large, hard-to-handle items.